May 5, 2015 8:00 a.m. - 10:00 a.m.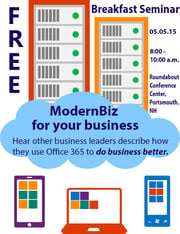 Roundabout Conference Facility, Portsmouth, NH
REGISTER NOW for this free event!
Space is limited! Register by 4/29/15!
Are you looking for a way to serve clients better, empower your staff, increase efficiency, and protect your business? Join us for a FREE breakfast seminar! Listen to a panel of business people just like you discuss how they use Microsoft Office 365 to do business better!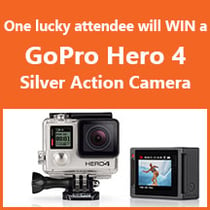 Showcasing the following Office 365 technologies: Office, Outlook, OneDrive, Lync, and SharePoint
Featuring a panel comprised of:

Jack Nugent, IT Manager, Margaritas Mexican Restaurant


Jerry MacPherson, IT Manager, Rockingham Electrical Supply Company

Karen McCloskey,Principal, CMH Wealth Management, LLC

Robin Fitzherbert, IT Manager, Mirra Co., Inc.