Between Black Friday and Cyber Monday, many of us will be online this weekend crossing off items on our holiday gift list. And, even amid the pandemic, some may be traveling to see family and friends while others are reaching out virtually using Zoon, Facetime, or other video conferencing technology. This increase in cyber traffic will inevitably lead to an increase in cyber attacks as the pool of victims surges for opportunistic hackers.
Cyber shopping can be especially hectic over the busy Thanksgiving weekend. Shoppers quickly click through link after link to find the perfect gift and best deal. However, not all links are safe and some deals are too good to be true. The bad guys are poised to take advantage of the hectic holiday season to prey on busy, unsuspecting shoppers. It is so important to keep your guard up when shopping and browsing online.
Likewise, if you're traveling to or connecting virtually with friends and family over the holidays, be extra vigilant. Hackers are on the lookout for distracted travelers who may overlook a corrupted public WiFi network or bogus travel alert,
Our friends at KnowBe4 made this great tip sheet with the Top 10 Holiday Cybersecurity Alert Tips. Please share this with any friends and family that might benefit from a little reminder before they power up and get shopping!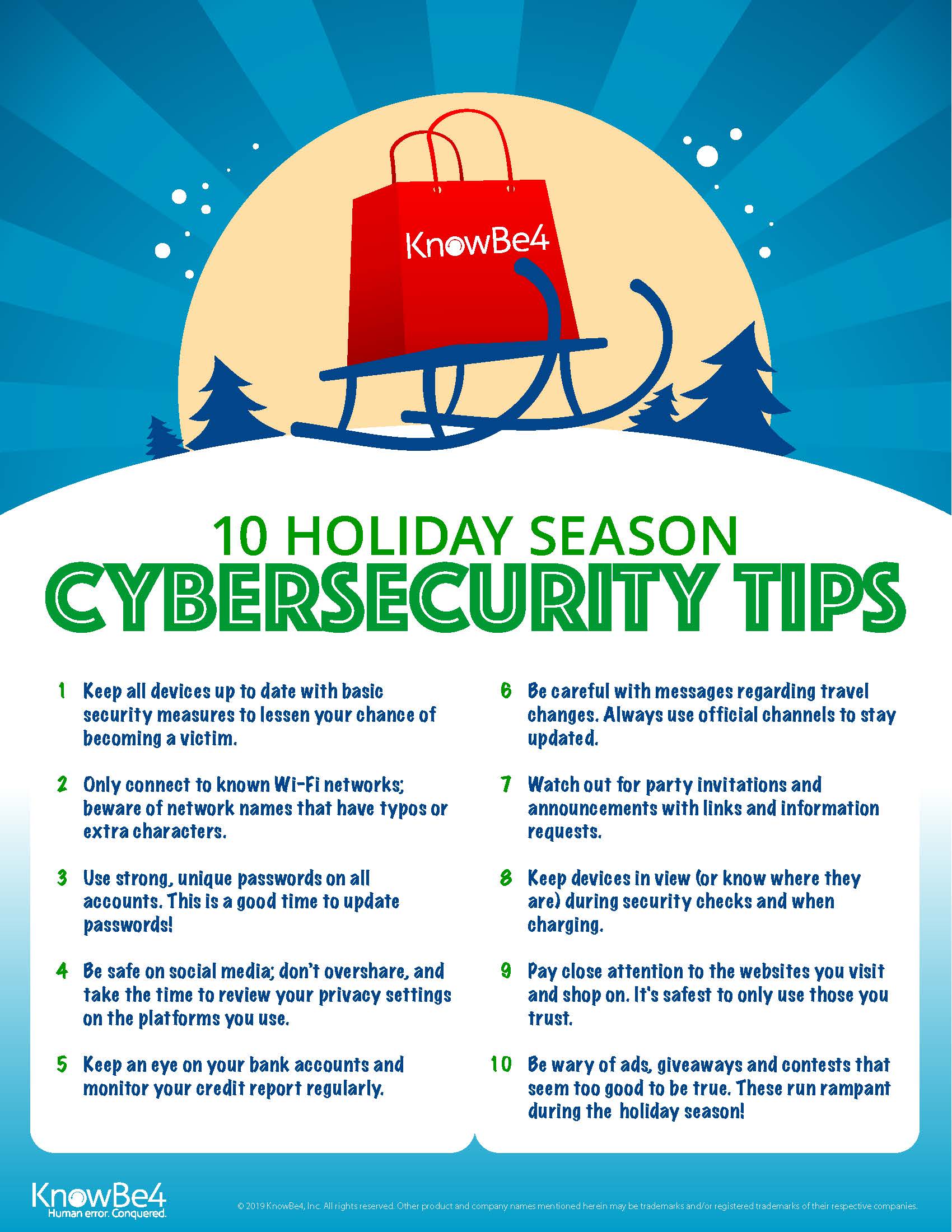 Although the holiday weekend can be a hectic time, try to slow down online and pay attention to the pages you are visiting, the networks you connect to, and the emails you are reading. It may just save you from a headache that will last long after Thanksgiving dinner.
Remember to share this post with your families and friends! Practice safe cyber shopping, secure traveling, and private online visits with friends and family. Happy Holidays!