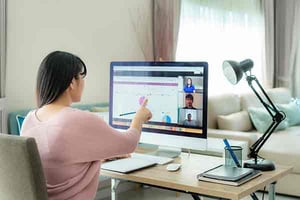 It's amazing what a couple of months can do. Back in early March, it would have been hard to imagine shifting your business to a virtual office. But necessity requires action and, when it became necessary, we found a way. For some businesses, remote work uncovered some surprise benefits, including increased productivity and collaboration. This is leading more businesses to adopt a permanent remote work policy. It's not necessarily all remote, as we were forced to do during the recent stay-at-home orders, but complementing existing physical locations with virtual offices where it makes the most impact.
If you're considering remote work for the long-term, it's important to deliberately and strategically design your business process. Bring together your IT support team with operations to customize a plan that fits your business model. When the Covid shut-down occurred, we shared some quick tips to help get businesses through the initial change. But if you are planning to incorporate remote work into your organization in the future, it's time for a clear remote work policy.
The top 5 things you should include in your business' remote work policy are:
1. Purpose
Define the business reason for the policy. It ensures that everyone understands why the policy exists and the benefit it provides the business and/or the employee. For example, the purpose of a remote work policy for the temporary stay-at-home timeframe might have been: The purpose of this remote work policy is to ensure business continuity for our organization, our employees, and our customers throughout the duration of the Covid-19 shut-down. It clearly states the reason the policy exists and what it provides.
Business reasons may vary and could include: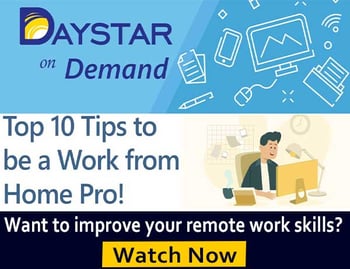 Business continuity
Cost savings
Workplace flexibility
Employee retention
Employee attraction
Address physical office space limitations
2. Scope and Parameters
This next step may take a bit of time. It is crucial to clearly define the scope and parameters of your remote work program to appropriately set expectations and manage it effectively.
Not all roles in your organization may be conducive to remote work. Receptionists can't welcome guests in the lobby while working working from home. Production floor workers, restaurant servers, and other hospitality roles are also not suited for remote work. Eliminate ambiguity by defining which roles are eligible for remote work. List out all possible roles and organize them into categories as onsite, remote, or hybrid. Hybrid means that some job duties in a particular role may be performed remotely, while other duties in that role cannot.
Secondly, decide whether you will allow full-time, partial, or as-needed remote positions. Full-time remote means a role is eligible for 100% remote work, with partial being a regular schedule of a combination remote and onsite. As-needed means a role is eligible for remote work should a temporary need arises. Don't think of this as a one-size-fits-all situation. This may be different per role, and may be subject to change, for example with management's approval.
Lastly, remind employees that they are still held to the codes of conduct and requirements associated with your employee handbook. If a dress code is in place, be sure to include a reminder that those expectations also apply to remote workers to ensure they are not video conferencing with clients in their sweatpants.
3. Technology Requirements
Remote access technology provides the means for remote work. For some, it may simply involve a company laptop and a secure Internet connection. However, for most businesses, it requires a little more coordination to ensure the stability and security of a remote work environment.
A remote work policy should define the technology requirements necessary to make sure your employees have stable, reliable remote access. This would delineate both approved equipment, remote access instructions, and baseline home Internet connectivity requirements. Equipment might include a company-issued laptop or workstation loaded with approved software and collaboration tools, a phone or headset for video calls, or ancillary devices like additional monitors, keyboard, and mouse.
It is equally important to define the security requirements surrounding remote access. Although they are not onsite, remote workers are employed by your business and you are responsible for the protection of company data. Define security policies around remote access and/or reinforce existing company policies. These might include:
Requirements for home network security
Requirements regarding public WiFi
Secure remote access
Multi-factor authentication
Encryption requirements
Policies surrounding the use of company-issued devices for personal use
Also, be sure to define how a remote worker can get IT support should they need help. This should include a phone number, email address, or online support portal for your internal IT or technical help desk.
4. Communication and Accountability
Communication and accountability requirements will vary not only across different businesses, but also among different departments or sections of a particular business. It is important to take some time and really work this out as this is the area that can make or break the success of your remote work program.
Your entire team needs to understand your business' communication channels and how to use them. Build in transparency with clear guidelines to set expectations appropriately so they can deliver on them and be successful. Some areas you will want to consider are:
Availability – whether that is a defined set of hours or a total number of hours per week, etc.
Status – communicating availability (e.g. Available/Active, Available/Away, Busy/Working, Out of Office). This can be done via many collaboration tools like Microsoft Teams.
Meeting requirements – daily huddles, department meetings, company meetings, etc.
Reporting requirements— on set expectations, KPIs, etc.
Performance feedback and evaluation
Build in opportunities to gather feedback. One of the strongest benefits of remote work is that it can actually increase productivity by giving employees more freedom to manage their time appropriately. Be open to feedback from your remote workers to further strengthen your policy.
5. Approval Process
Provide clear instructions for remote work approval. Describe how requests should be made - via a company form, email, or simply verbally. Define who has the authority to approve remote work. This could be a department manager, human resources, or even the company owner depending on the size and culture of your organization.
Lastly, indicate how long the approval process takes. This helps set appropriate expectations for someone requesting a remote work arrangement.
As many companies learned over the past three months, remote work can be a valuable addition to business operations. By strategically creating a remote work policy customized to your needs, you can set a strong foundation for the success of your team and your business.
Looking for help in crafting a remote work policy? Our virtual CIO works with clients to assist them in building processes like remote work, acceptable use, passwords, and more. Reach out to learn more about our managed IT services.

---
Daystar is a managed IT service provider and business technology integrator providing outsourced IT support and strategic planning to businesses and organizations in New Hampshire, Maine, and Massachusetts.