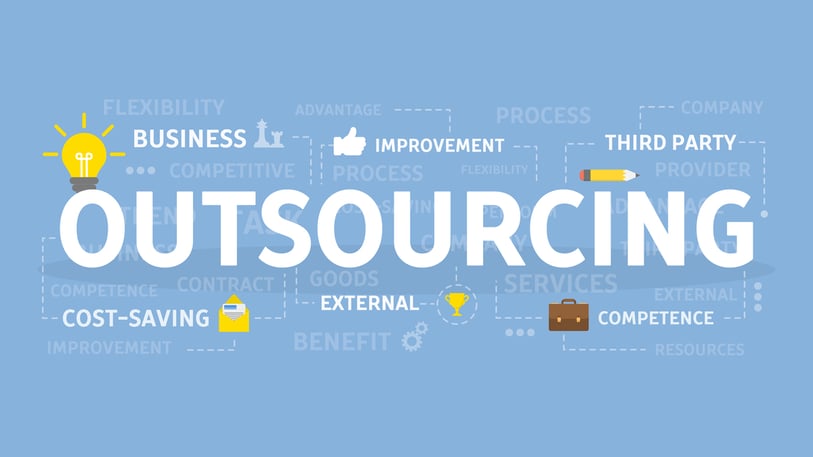 If you are a business owner, you probably don't spend a majority of your time thinking about how technology truly impacts your business — until it stops working, that is. When there's a problem with your network, business software, or computer systems, all you want is for someone to fix it fast and get your business running smoothly again. But is it best to have an IT person on-site or outsource that work?
Outsourcing, as it relates to IT, means that instead of having internal, full-time employees handle all of your IT needs, you have a dedicated external team handle your business's IT functions. A managed service provider (MSP) can help you proactively maintain and manage your technology to prevent problems such as outages and downtime.

There are other models of outsourcing. Deciding which route you want to take depends on your situation and your needs. Either way, we've put together some information to help you decide if outside support is right for you.


---
Is your business plan missing something?
Technology powers your business, but it can also hold it back. As your company grows, make sure your technology solutions can keep up and help you hit your goals. Don't be caught without a plan.
---
Overcome the Gaps in Internal IT
If you have an in-house IT person or a small IT team handling your technology-related tasks, they probably have gaps in their skills. It's not because they are an insufficient employee, nor does that mean they were a poor hiring choice. It's just a natural fact within the vast category of issues that arise in IT. It'd be unfair to ask a single person, or even a small team, to be an expert in everything.


IT has various disciplines such as security, storage, communications, cloud services, cybersecurity, networking, disaster recovery, and more. Hiring an IT services provider makes it much easier for you to access experts in all of these areas. And, because the cost of the experts is distributed amongst all of their clients, it's more affordable for your company than hiring your own full-time IT employees.


Keep Your Costs Under Control
Having a full-time internal IT department may sound like a convenient and efficient technology solution in theory. Though, it comes with a lot of its own burdens. For example, having to purchase all of the equipment for on-staff IT management is no frugal effort. In-house IT costs can often exceed a managed service provider's cost while providing equal or sometimes even less efficient service.

Most outsourced IT departments will have several service levels to choose from and charge you a monthly fee for managed services, so you know what your services will cost each month, and there are no fluctuations. As technology changes drastically and quickly in the twenty-first century, the cost of keeping up with those changes in-house can come as a not-so-pleasant surprise. Having a set MSP makes maintaining optimal technology performance cost-effective and helps you plan your support services budget more easily.


Take a More Proactive Approach
If you're not an IT company, technology issues can bring your team's productivity and your business to a screeching halt. Outsourcing IT services to an external provider makes it easier to focus on the things that are most important to your business while simultaneously ensuring your team has the tools and resources it needs to stay productive.
If you have an internal department, your technology department is likely reactive to any problems. They are more likely to get stuck in the day-to-day work putting out fires and responding to any time-consuming issues. They likely don't have the time to take a proactive approach that can drive your business forward and prevent future issues by properly maintaining and managing equipment. Having your IT infrastructure outsourced allows you to direct internal resources toward core competencies necessary for your business while a dedicated team of experts is proactively handling your technology.


Get the Right Technology – Not Just the Newest
Your IT professionals shouldn't try to push the latest technology on you just because it's the latest. At Daystar, we expertly vet the newest technology and only bring the solutions that are right for your business. Our goal is digital transformation –– to use new technologies to simplify your environment and support the operation of your business best while maintaining security.
An outsourced IT service partner should have the resources to start new projects right away and bring years of experience to the table to save you time and money. Many small businesses don't have the resources or budget available to keep up with the technology and education needed to maintain their IT support needs.


Constant Monitoring Reduces Risk
When you outsource your technology systems, you will receive more attentive monitoring and have access to our help desk, which reduces your risk of IT system issues. Outsourcing can prevent hardware and backup failures, software crashes, spyware installation, database corruption, and virus intrusion. If there is a failure, outsourcing your information systems can reduce the length of downtime your business experiences.


Improved Long-Term Planning
Technology is constantly changing, and it is hard to keep up with it. Instead of always trying to learn what new technology is best for your company, let your outsourced IT provider create a plan for your company's IT future. Because IT is their core business, most IT service providers have experts in several areas. This means they can be more productive and provide higher-level services that include planning the future IT needs for your business. Take advantage of that and put your focus on other aspects of your business.


When Should You Outsource?
We've discussed things to consider when outsourcing, but how do you know when it's time to consider outsourcing your IT needs? Here are a few situations where outsourcing may be a good option:
Your organization is changing infrastructure – If your company is growing, it may be time to assess your IT needs and outsource. It's easier to outsource when things are already changing and growing than when your business is in stasis or not growing.


Too many changes are needed – If you have a lot of technology that needs to be changed, your internal team may not know how to install or implement those changes universally. An external team will have an expert that is knowledgeable and able to recommend IT solutions that are right for your entire business.


When you need to go to market fast – Having an external team allows you to accelerate the time to market for projects your business is working on, giving you a competitive advantage. They can start on a project immediately and put all of their focus on getting it ready. Your internal IT person won't have the ability to put all of their time and focus on a new project because they have multiple tasks they are juggling at the same time.


When you require niche expertise – Every company wants their IT department to respond quickly to their needs. Projects that require rare expertise are often best outsourced to a company with that specific knowledge and skill set.


When there is a skills gap – It's usually not financially effective for small and medium-sized companies to hire a highly-skilled specialist. This means there is a skill gap for projects they may need an IT person to handle. To upscale your business, consider outsourcing your IT work to expand your talent pool of experts.


When IT isn't your core competency – If IT isn't an integral competency for your company, having your IT services outsourced will ensure better pricing, faster turnaround time, quality, and project scalability for your company.


When deciding whether or not to outsource your IT services, it is important to consider the benefits of outsourcing and drawbacks, as well as the timing to implement the changes.
---

Follow Our Learning Center for the Latest Developments in Technology and IT Support!