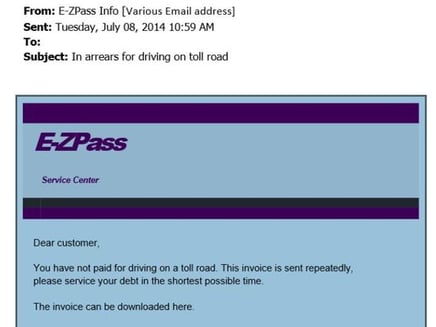 A new phishing scam attacking e-mail users has surfaced this month. The e-mail imitates the E-ZPass Service Center, the electronic toll collection system, and uses E-ZPass colors and logo to appear authentic. The subject line reads something like, "In arrears for driving on a toll road." The text is vague, but informs the recipient that they "have not paid for driving on a toll road." The e-mail then asks the user to download an invoice to remit payment of the unpaid toll as soon as possible.
The e-mail is not legitimate and the link to the invoice actually contains a virus that can adversely impact your computer's performance and/or steal passwords or other sensitive information.
According to E-ZPass, they do not, and will not, send invoices via e-mail. All E-ZPass invoices are sent through United States Postal Service.
What to do:

Notify your users immediately! Tell them to be wary of any e-mail messages with unexpected links or attachments. Any suspicious e-mail should be verified as legitimate before clicking on any link. If in doubt, DELETE it!
Pay attention to your antivirus notifications regarding authorization of any new downloads. Be sure you know what you are downloading and click NOto anything suspicious.
Verify your backups and make sure they are operating properly. Hopefully, you won't need it, but if you do, you'll be glad to know it's up-to-date.
If you become infected, instantly remove the device from the networkand shut it down. Contact Daystar immediately for assistance.
If you have any questions or would like more information, please contact Daystar's Professional Services Group via your
client portal
,
e-mail

,
or via phone at 603.766.5924 x3.