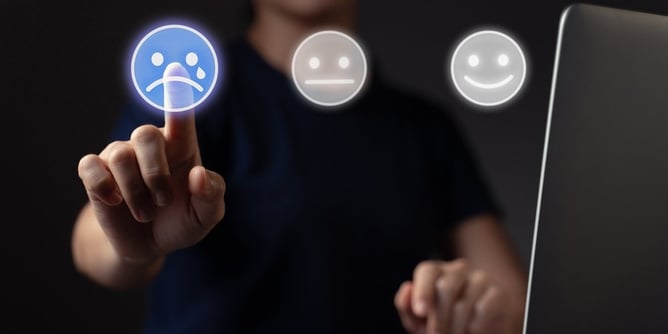 When it comes to your information technology, you shouldn't have to be constantly dealing with issues that keep you and your team from focusing on your primary goals. Whether your IT staff is onsite or you rely on a remote support provider for IT support, your technology support service is one area you don't want to accept "just okay." Technology permeates nearly every aspect of your business, which means maintaining it and making sure it's performing efficiently is vitally important for your business.
However, technology is about more than powering your devices. It should help you transform your business, stay competitive, and reach your long-term goals. Having the right managed IT operations provider can do these things and more, which is why you need to do your homework when choosing your provider. Here, we'll discuss five ways to help you avoid an unhelpful managed IT partner.
---
Is your business plan missing something?
Technology powers your business, but it can also hold it back. As your company grows, make sure your technology solutions can keep up and help you hit your goals. Don't be caught without a plan.
---
Do Your Homework on the Provider
Choosing an MSP, or Managed Service Provider, is a big business decision. An MSP gives your business access to a full IT department that can be a valuable and flexible addition to your business. When it's time for you to choose your managed service provider, make sure you do your homework to ensure they aren't just telling you they can provide the services they claim. Read reviews and testimonials from independent sources, not just those from their website, and check the Better Business Bureau for issues that other businesses may have had. Make sure they offer comprehensive solutions and can back up their claims.
Your Provider Should Help Drive Revenue
Another benefit of a managed IT company is the revenue they can help create and the costs they can help save. An MSP can convert variable pricing into a fixed monthly expense that is easier for budgeting. They also allow you to take your focus off of IT systems issues so you can put your focus on procurement and the core objectives of your business. With a team focused entirely on technology, you will have the ability to scale your business quickly for growth and development. Having an IT services provider also makes it easier to expand your business with little to no issues.
Do They Power Innovation in Your Business?
Your managed services provider should offer regular strategic guidance through a well-structured approach and be able to show you measurable results. These performance results should include things like cost savings, performance increases, budget planning, revenue increases, and better support for the growth of your small business. Reaching future goals starts by having a clear picture of where you are now and where you want to go. A good MSP will offer performance metrics, documentation, and analysis at every level of the support process. This will give you the insight and visibility you need to make informed IT decisions for your business.
How is Their Customer Service?
While you may not think of customer service as a priority in technology-based services, we promise that as the end-user you want to work with a provider that is responsive and helps you resolve issues quickly. Dealing with poor customer service can be extremely frustrating, especially if you need answers right away. A help desk that isn't responsive won't help you in the middle of an IT crisis where you need to get something fixed. Every minute you spend trying to find a person to answer your questions means a loss of productivity and extended downtime. Your MSP should provide you with a contact number that will be responsive, helpful, and willing to offer troubleshooting in real-time, so you don't have to chase down the support you need.
There are also major benefits to working with a MSP that is located in the United States versus one that is based overseas. While the latter may tempt you with lower up-front costs, the language barrier and lack of knowledge about your industry will lead to more frustration and less efficiency. In the long run, it could end up costing your company more.
Do They Cut Corners with Compliance?
As you research different MSPs and do your due diligence, look into the measures they take to secure data and adhere to compliance regulations. As your technology provider, the MSP will have access to your business' systems and data. A conscientious MSP takes this responsibility seriously and invests in internal controls and processes to ensure the protection of the client's data. It is critical that you ask about the security measures they take to protect your business data and feel like they have adequate safeguards in place.
Will They Grow with You or Hold You Back?
The state of work and business is constantly evolving. When you outsource your IT services it's vital to have a provider that continually assesses your IT needs and helps you stay up to date with the right solutions. Healthcare organizations and nonprofits have different IT needs. Make sure your provider has comprehensive IT solutions related to your industry.
Choose a provider that offers a range of services including IT infrastructure and network management, remote monitoring, desktop support, advisory and planning services, cloud computing, and other cloud services. Inquire about specific cybersecurity services too, like antivirus management, firewalls, disaster recovery, security training and testing, and data center backup. Consider whether you need any specialized technology services in SMB management, ERP management, Microsoft and Azure support, or CRM management. Having a provider with a variety of technology services will help you scale your business, so look for a partner with the best value for solutions offered and not just the lowest price. A good partner should future-proof your business, help you plan long-term strategy, and adapt to your needs as your business grows.
Choose Wisely
When choosing an MSP, you need to look for a sustainable, long-lasting partnership that will help your business succeed. Find an outsourcing partner that syncs with the goals of your business so you can secure continuous access to the technology your business needs for future growth and success. If you are unhappy with your current provider or looking to outsource your technology needs to an outside provider, discover how Daystar could be the right fit for your outsourcing needs.
We provide a comprehensive solution for proactively managing your information technology, backed by proactive support to help you grow. Contact us today to make sure your technology is helping your business grow, not hold it back.
Looking for an IT provider that will future-proof your business and provide excellent customer support? See what makes Daystar different.
---

Follow Our Learning Center for the Latest Developments in Technology and IT Support!