Learn how easily compromises occur, what data is sold over the Dark Web, and how local businesses can protect their clients, employees, and data
October 5, 2020: Businesses are invited to take a safe look inside the Dark Web as Daystar hosts a one-hour webinar on Digital Risk: Protecting Your Business From the Dark Web on October 21, 2020 at 11:00 a.m. Daystar CEO Keith Bamford will host the discussion that will include expert insight from Kaseya's Will Bishop.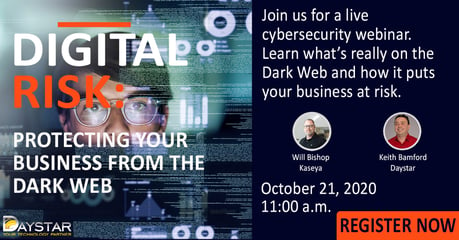 The dark web is an unregulated part of the Internet that can only be accessed by special browsers. Although not everything on the dark web is illegal, it is well-known as a hotbed for digital criminal activity. A vast online marketplace where hackers and other cyber criminals can anonymously trade stolen credentials, sensitive customer or financial data, malware infections and more pose a serious risk to an organization's data security.
"Businesses across New England are challenged with increasingly sophisticated cyberattacks. With most attacks going undetected for approximately seven months, many businesses don't even realize their employees' private work credentials are already compromised. This can put confidential business data at risk," says Bamford. "We put together this webinar with Kaseya to educate area businesses about the Dark Web and give them the opportunity to find out if – more likely which – business data is vulnerable to exploitation."
Although the Dark Web can seem like ­­­another world to the average person, research shows that more than 15 billion login credentials are openly for sale on the dark digital commerce playground. These user names and passwords are for various online services, such as banking services, social media accounts, and cloud applications. For example, in April of this year, more than 500,000 stolen Zoom credentials were on sale, at a time when more people worked remotely due to the COVID-19 pandemic.
"If an employee uses the same passwords across multiple applications, it is much easier for a hacker to crack into more sensitive company systems and gain access to financial and other personally identifiable information, " continues Bamford.
In the live webinar, Daystar will walk attendees through the risks particular to small and midsized businesses and share methods and tools they can use immediately to help protect their organizations. Kaseya will lead participants through the Dark Web, share screenshots of the deals being made, and examine how breaches occur and by whom.
All attendees will receive the opportunity for a free Dark Web scan and a complimentary security consultation. To register for the seminar, visit https://my.demio.com/ref/G3AimqVdyJBDBvpB.
About Daystar
Daystar is a managed services provider and technology alignment integrator for small to midsized businesses. Because businesses deserve smart, secure, and reliable technology support and guidance, we developed a business-aligned IT support platform that helps organizations create a hassle-free workspace, achieve business goals, and keep data safe.
Daystar exists to help small to mid-sized businesses grow across New Hampshire, Maine, and Massachusetts. After two decades in the technology industry, we understand the dynamics of change. We embrace it and hope to help others in their journey as well.
Located in Newington, NH, Daystar was founded in 2000. For more information on Daystar, please visit www.daystarinc.com.
###
---
Daystar is a managed IT services provider and business technology integrator serving businesses and organizations in the tri-state area throughout New Hampshire, Maine, and Massachusetts.